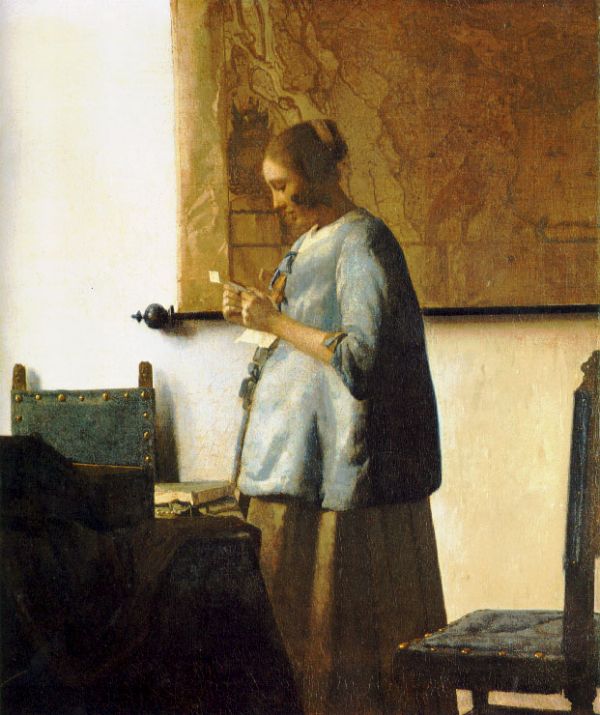 Woman in Blue reading a Letter
Amsterdam, Rijksmuseum
47x39 1662-64
In the early 1660's, Vermeer created a sequence of images of tranquil, pensive, self-absorption. Light and composition heighten the beauty and introspection of these lonely heroines. At the same time, ironically, he was living in deep debt, running an inn, keeping his wife of ten years, Catherina, and supporting a family: of fifteen pregnancies, eight survived infancy. One can only imagine the chaos that surrounded these serene canvases.
In comparison to the first of this series, Girl Reading a Letter at an Open Window, there is no window, no curtain, and the objects on the table are smaller. There is a jewelry box, a string of pearls, and another page from the letter on the table. The woman is pregnant: perhaps this is a portrait of Catherina.
There is an abstract arrangement of furniture and the map to simultaneously isolate and define the figure of the woman, making her the focus of the picture rather than just another symbol. The negative spaces, the shapes of the visible areas of the wall, are also important in the composition.
The woman's head is further enclosed and framed by the map, with the finial of the map rail providing a termination for her gaze, wrapping her in the contents of the letter. The colors of this painting are muted, blue, ocher and white, adding to the quiet and tranquility.
The map of Holland is the same as in The Officer and the Laughing Girl; it represents the woman's thoughts about distant places, perhaps where the writer of the letter is, who may also be the father of her child.